At a Glance
Description
View images related to Alaskan statehood and Native Americans.
Website
Producer
Rasmuson Library, University of Alaska Fairbanks; Consortium Library, University of Alaska Anchorage; Alaska State Library
Alaska's Digital Archive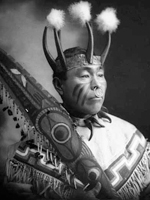 This website offers access to the digital collections of six Alaska universities and museums. The more than 3,700 historical images of Alaska can be browsed in their entirety or by selecting specific thematic collections organized under the two broad themes. "Alaska Native History and Cultures" has 12 collections with themes that include ceremonial life, education, native leadership and politics, making a living, and health care facilities. "Movement to Statehood" has seven collections with themes such as government, business and commerce, natural resources, transportation, and society and daily life.
Both "Alaska Native History" and "Movement to Statehood" can be browsed by region or time period. Bibliographic data accompanies each image. The user can also search the collection by phrase or keyword. Future stages of the project will add oral histories, maps, documents, and film clips in multiple formats. Alaska's Digital archive is an outstanding resource for those seeking images of Alaska's history.