At a Glance
Description
Explore American slavery through this website's 33 primary source documents.
Producer
The Digital Scriptorium, Special Collections Library, Duke University
Third Person, First Person: Slave Voices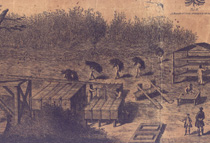 An exhibit of primary source material relating to slavery from the late 18th century to emancipation in the 19th century.
It reproduces or describes 33 documents, such as a broadside announcing a reward for the return of a runaway slave, a map delineating slave labor on an indigo plantation, a New York bill of sale for the purchase of a slave in 1785, and an 85-page memoir written in 1923 by Elizabeth Johnson Harris, an African American woman from Georgia who relates stories and experiences of her parents and grandparents, who had been slaves. The site "showcases the kinds of rare materials that under scrutiny reveal the ambitions, motivations, and struggles of people often presumed mute."