At a Glance
Description
Explore the federal government's extensive collection of resources pertaining to the JFK assassination.
Producer
National Archives and Records Administration
The President John F. Kennedy Assassination Records Collection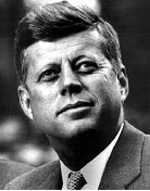 On order of an Act of Congress signed into law in 1992, the National Archives has gathered federally-created material relating to the 1963 assassination of President John F. Kennedy—including declassified material from every relevant presidential commission, congressional investigation, and executive-branch agency—and placed it in a single collection, supplemented with materials donated by local governments, presidential libraries, institutions, and private individuals.
While original records are not available online, this site presents a searchable database and extensive finding aids and includes full texts of the reports issued by the Warren Commission, published in 1964, and the 1979 House Select Committee on Assassinations.
This is a well-designed site that will be of most value to scholars of the assassination who plan to conduct research at the Archives.