At a Glance
Description
See American life through Gedney's eyes and European and Indian life through American eyes.
Producer
Stephen Miller, Project Manager, Rare Book, Manuscripts and Special Collections Library, Duke University
William Gedney Photographs and Writings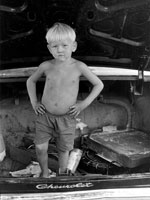 This beautifully presented site features selections from Duke University's collection of photographer William Gedney's work and writings. From the mid-1950s to the 1980s, Gedney captured everyday life of people in places as diverse as Brooklyn, Kansas, India, and Europe. The site boasts more than 4,900 of his prints, workprints, and contact sheets. Photographs are arranged into 12 series: Composers; Cross Country; Europe; India; Kansas; Kentucky; New York; San Francisco; St. Joseph's School for the Deaf; The Farm; Night Series; and Miscellaneous. Each category offers a 35-50 word introduction to the series, and each image is accompanied by its title and a brief 5-10 word note on the subject matter and date taken.
Also on the site are selections from 33 of Gedney's manuscript books and notebooks, including ideas for book projects, descriptions of bookbinding methods and materials, and travel diaries. All of the writings are available in image form, and eight of the notebooks are also transcribed. Selected photographs, sketches, and dummies for nine book projects are also included, as well as a timeline of Gedney's life and work from his birth in 1932 to the San Francisco retrospective of his work in 2000. The site is keyword searchable and easy to navigate, making it an exceptional source of illustrations and images of American life, as well as an American's perspective on life in India and Europe.