At a Glance
Description
What would your life have been like as a housewife in 1850?
Producer
Cornell University Library
Home Economics Archive: Research, Tradition, History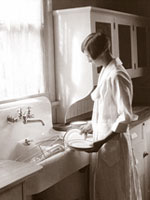 This site offers books and journals related to the science of home economics. Its goal is to document the rise of home economics to a profession, beginning around the middle of the 19th century, and to correct an academic marginalization of the field.
Primarily focused on the years from 1850 through 1925, the site contains digitized texts of 934 books and 218 journal volumes, totaling almost 400,000 pages. Visitors may use the search engine, or look through the Subject index, or browse alphabetically by author, title, or year of publication.
Topics range from Child Care to Housekeeping to Retail. Each entry includes a 500- to 750-word essay, two or three images, a very detailed bibliography (available as a PDF file), and a list of possible subtopics. This is an outstanding site full of primary sources and a great resource for researchers, students, and teachers.