At a Glance
Description
Catch up on the latest scholarly research, and learn and incorporate new scholarship or innovative findings into the classroom.
Producer
American Historical Association; Organization of American Historians; University of Illinois Press; and National Academy Press
History Cooperative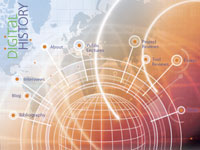 This website provides full-text access to 22 academic history journals, including major titles, such as the American Historical Review and the Journal of American History, and smaller journals, such as the Journal of Social History, the Western Historical Quarterly, and the Journal of World History. Available journals include current issues and coverage from the recent past, going back as far as 1999, in PDF and HTML format. The website offers keyword and Boolean searching as well as advanced searching by type of article. There are four additional resources, including conference proceedings, the Booker T. Washington Papers, and Historical Map Collections. Articles in the American Historical Review are available for free without a subscription; reviews are available only by subscription.