At a Glance
Description
Read the correspondence of lesser known founding father John Jay.
Producer
Columbia University Libraries
Papers of John Jay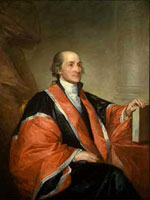 This site is a compilation of the unpublished papers of founding father John Jay, dating from 1745 to 1829. It is comprised of nearly 14,000 pages scanned from Jay's manuscripts and related materials. Abstracts and bibliographic notes accompany the scanned images. The primary documents are difficult to read in the original handwriting and they have not yet been transcribed. The quality of some of the images is also poor, although users can enlarge and enhance them. The records are searchable by name of writer, date of composition, name of holding institution, and accession number. Keyword searching of the abstracts, which vary in length and informational detail, is also possible.
Users will find letters from such prominent individuals as John Adams, Benjamin Franklin, Alexander Hamilton, Thomas Jefferson, and George Washington. The correspondence deals with New York, anti-slavery, repeal of the Missouri Compromise, international affairs, and state government and politics. Those unfamiliar with Jay and his historical significance should be sure to visit the site's four thematic pages, each containing an essay (500 to 800 words) with links to documents. The site also includes a 1,300-word brief biography and a more than 50 item bibliography of relevant sources.