At a Glance
Description
Explore primary documents concerning the Berkeley Free Speech Movement.
Producer
University of California, Berkeley, Bancroft Library
Free Speech Movement: Student Protest, U.C. Berkeley, 1964-65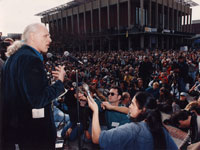 The Bancroft Library has put its entire archive of material on the Berkeley Free Speech Movement (FSM) online. A 200-word chronology introduces visitors to the major events of the movement. Printed material includes five books, 29 leaflets (200 to 3,000 words each) produced by the FSM, 55 letters to and from FSM activists, 11 local radical newsletters, 36 statements, 21 press releases, and six speeches made by students and university faculty and administration. Visitors may read complete transcripts of 10 oral histories of between 85 and 1,000 pages: eight with university administrators and faculty; two with FSM activists. A collection of legal documents includes 40 pages of trial transcripts and 400 letters from FSM activists to Judge Rupert Crittenden, who presided over their trials.
This site also provides researchers with the first public access to 96 photographs of FSM rallies and sit-ins taken by Ronald L. Enfield in 1964 and 1965. Materials from related organizations include 63 documents from nine contemporary protest movements at Berkeley. The site may be searched by subject, but is somewhat difficult to navigate because pages within the collection do not link directly to an index or the collection's home page. The site will be most useful to experienced researchers.