At a Glance
Description
What tactics has the tobacco industry used to sell smoking to the populace?
Website
Producer
Philip Morris USA Inc.
Phillip Morris Advertising Archive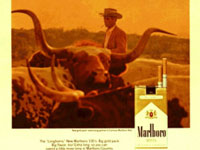 More than 55,000 color images of tobacco advertisements from litigated cases, dating back to 1909, are now available on this site, created as a stipulation of the Master Settlement Agreement between the tobacco industry and various states' attorneys general. In addition, more than 26 million pages of documents concerning "research, manufacturing, marketing, advertising and sales of cigarettes, among other topics" are provided in linked sites to the four tobacco companies involved—Philip Morris, R. J. Reynolds, Lorillard, and Brown and Williamson—and to two industry organizations, the Tobacco Institute and the Council for Tobacco Research. Ads and documents can be accessed by date, brand name, title words, and persons mentioned, among other searchable fields. Images can be magnified and rotated. An important site for those studying the historical uses of advertising to promote smoking and those with a more general interest in some of the motifs in ad texts and images that have become part of 20th-century American life.