At a Glance
Description
View political cartoons by Herbert Block, father of the term, "McCarthyism."
Website
Remembering Herblock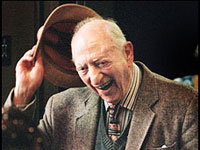 Presents an exhibit of 36 political cartoons and five essays by Herblock (Herbert Block), the acclaimed Washington Post political cartoonist who died in October 2001 after a career spanning seven decades. This tribute includes cartoons and the essays originally put together in 1995 for the exhibit "Five Decades of Herblock," as well as cartoons from 1998 to 2001, 12 photographs, three essays of appreciation, and the editorial that appeared in the newspaper the day after he died. As if to illustrate Herblock's observation that "Political cartoons, unlike sundials, do not show the brightest hours," the exhibit addresses such "dark" American topics as the "fear and smear" era of HUAC and McCarthyism (a term Herblock himself coined), Jim Crow in the 1950s and 1960s, the Vietnam War, Watergate and other Nixon-era scandals, Reagonomics, the 1994 Republican "Revolution," the Clinton impeachment, the Columbine shootings, and the Supreme Court decision in Bush v. Gore. Although the site is marred by annoying pop-up ads, this remains a valuable site for those studying popular culture and the history of political cartoons.