At a Glance
Description
What can you learn from the Lansdowne portrait of George Washington?
Website
Producer
Smithsonian National Portrait Gallery
George Washington: A National Treasure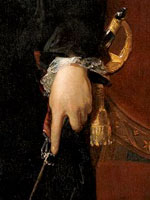 This national exhibit focuses on the Lansdowne portrait of George Washington, painted by Gilbert Stuart in 1796 (the last painting of Washington before his death). An historic tour from the Smithsonian's National Portrait Gallery, this painting traveled across the country to eight major cities—Houston, Las Vegas, Los Angeles, Seattle, Minneapolis, Oklahoma City, Little Rock, and New York City—for the first time. Currently, Internet users may explore this historical portrait at the above listed site using three different filters: symbolic, biographic, and artistic. Each filter highlights a distinct component of the portrait, provides background information, and offers an interpretation of each individual element. In addition, the site contains biographical information on Washington's life and a teaching section for kids.