At a Glance
Description
Take a peek at 1940s military life in Hampton Roads, VA.
Producer
Library of Virginia
U.S. Army Signal Corps Photograph Collection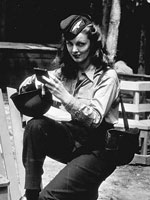 Provides nearly 3,500 photographs taken at Hampton Roads Port of Embarkation in Newport News, VA, where more than 1.5 million people arrived and departed during 1942-1946. The photographs were shot for the Army's Transportation Corps by U.S. Army Signal Corps photographers. In addition to military personnel, photos present civilian employees, Red Cross workers, wounded persons, entertainers, and German and Italian prisoners of war. In addition to Hampton Roads, seven photos were taken in Baltimore; one was shot in Chicago. Bibliographic records describe the images with information on persons, location, and date.
A special group of 34 images with descriptive captions document "The Odyssey of an American Soldier" from his arrival at Hampton Roads to his debarkation near a combat zone. Users can search images by personal name, ship name, geographic location, and keywords used in bibliographic records. Valuable for those studying military history and life at this key transportation site.