At a Glance
Description
What tools do men use to turn wilderness into private property?
Producer
National Museum of American History, Smithsonian Institution
Physical Sciences Collection: Surveying and Geodesy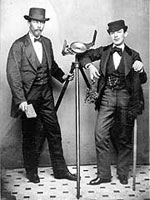 Provides historical information and photographs pertaining to more than 300 surveying instruments used in America to delimit land and transport boundaries "since the first European colonists settled here some 400 years ago and turned the American landscape into property." Visitors may browse by 23 types of instruments—from alidades to zenith telescopes—and by 117 names of instrument makers. Informative texts on makers, types of instruments, and specific instruments run from one sentence to 300 words in length. Entries include bibliographic references. Of value for those studying the history of science and technology.