At a Glance
Description
How did radio move from major technological advance to mass popular culture?
United States Early Radio History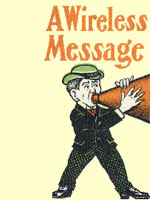 This website contains articles and extracts about early radio and related technologies in the United States from 1897-1927. It is organized chronologically and divided into 24 sections. Each section is a long-form essay, containing numerous hyperlinks to reproductions or transcriptions of original primary documents, including documents relating to the efforts to provide entertainment and news over the telephone in the first decades of the 20th century. Essays vary in length, most 1,000 - 2,000 words, and many are original essays by the site's creator. The first section offers an overview of the individuals, activities, and technical advances that characterize the early 20th century. The subsequent sections include essays entitled "The Electric Telegraph" and "Radio at Sea." The latter argues that navigation was the first major use of radio and it helped to reduce the isolation of ships and save lives. There are also essays about the early development of the radio industry and the radio during World War I. "Early Government Regulations, 1903-1946" contains 18 documents covering early international and national control of radio and the final section on U.S. radio history covers such topics as "Washington D.C. AM Station History" and "Mystique of the Three-Letter Callsigns" about U.S. radio and television station call letters.
The site is a fascinating place for those interested in the early history and development of the radio and its subsequent effects on related technologies.