At a Glance
Description
Learn about labor history through the infamous Bisbee Deportation.
Producer
University of Arizona Library
Bisbee Deportation of 1917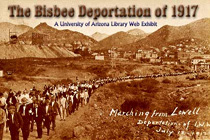 In 1917, a labor dispute between copper mining companies and workers in Bisbee, Arizona, escalated into vigilante action against suspected members of the Industrial Workers of the World (IWW). This site provides primary and secondary sources on the strike and subsequent deportation of over 1000 striking miners from Bisbee. It offers a roughly 500-word essay on the incident's historical context, and provides online access to materials such as personal narratives, witness interviews, government reports, newspaper articles, correspondence, and images selected from the University of Arizona Library, the Arizona Historical Society, and the Sharlot Hall Museum in Prescott, Arizona. There are 26 mining and deportation photographs, three maps, 19 IWW publications with color images of the covers, and six images of IWW stickers on the site, along with a bibliography of 34 scholarly works, 11 of which offer links to online, full-text versions. The site provides a partial finding aid that lists items with links to the document texts featured on the site. The site is ideal for studying labor action and labor/management relations in the early 20th century.