At a Glance
Description
MA educators—explore a historical moment (and accompanying primary source) for every day of the year.
Producer
Massachusetts Foundation for the Humanities
Mass Moments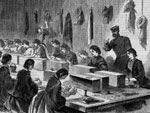 On May 15, 1602, English explorer Bartholomew Gosnold dropped anchor off the Massachusetts coast, and due to the abundance of cod fish in the waters surrounding his ship, named the location Cape Cod. This is the first of 365 moments in Massachusetts history presented at this website.
The majority of moments cluster in the 19th and 20th centuries, and include events of relevance to political, economic, social, and cultural history, including the incorporation of the town of Natick in 1781, the opening of Boston's African Meeting House in 1806, and the release of the movie Good Will Hunting in 1997.
Each moment is described in roughly 750 words, and is accompanied by an excerpt from a primary source. The text is also available in audio format. The moments are keyword searchable, as well as browseable through the website's Timeline and Map features.
Elementary, middle, and high school teachers will find the Teachers' Features section especially useful, as it includes several comprehensive lesson plans, on labor, women's rights, the African American experience in Massachusetts, and early contact between settlers and indigenous peoples in Plymouth.