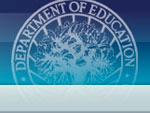 Tue 15 2011
On Feb. 2, the Department of Education released the Teaching American History Grant Program Notice Inviting Applications for New Awards for Fiscal Year (FY) 2011.
According to the Department, the Teaching American History program is
designed to raise student achievement by improving teachers' knowledge and understanding of and appreciation for traditional U.S. history. Grant awards will assist LEAs [local educational agencies], in partnership with entities that have content expertise, to develop, document, evaluate, and disseminate innovative and cohesive models of professional development. By helping teachers to develop a deeper understanding and appreciation of U.S. history as a separate subject matter within the core curriculum, these programs will improve instruction and raise student achievement.
The TAH program has reached out to U.S. history teachers across the nation since 2001, when it awarded its first 60 grants. Last year, 124 applicants received grants. Learn more about the program at ED.gov—browse the abstracts of previous award recipients, learn how to apply, and read FAQs on eligibility, project priorities, and other topics. If you're applying (or are already a grantee), you may benefit from the Department of Education's webinars on grant management. Sign up, or read transcripts for past webinars.
Curious to see what others have learned from participating in TAH Grant projects? We have a section dedicated to highlighting TAH! Project Spotlights look at projects that share the resources they've created online, and Lessons Learned lets you in on the experiences of educators, project directors, historians, evaluators, and others who have participated in TAH projects.