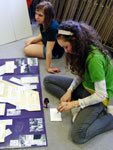 Thu 16 2012
On February 13th, National History Day (NHD), a year-long, nationwide contest that challenges students to hone their historical thinking, research, and interpretation skills, received the 2011 National Humanities Medal. Presented by the National Endowment for the Humanities, the medal "honors individuals or groups whose work has deepened the nation's understanding of the humanities, broadened our citizens' engagement with the humanities, or helped preserve and expand Americans' access to important resources in the humanities." This marks the first time a K–12 education program has received the medal, according to a press release.
Interested in learning more about the program? Your first stop should be the National History Day website. Then come back to Teachinghistory.org to read what our teacher-writers have to say about their NHD experiences! Eighth-grade teacher Amy Trenkle loves the website and documentary categories, which ask students to practice 21st-century skills in their NHD presentations (read her thoughts). Mike Yell, 7th-grade teacher and former National Council for the Social Studies president, recommends using the program as a differentiation option for self-directed students (read more here).
Are you and your students already involved in NHD? Do they have questions about historical thinking and research? Do you? Remember that anyone can submit questions to Ask a Master Teacher, Ask a Historian, and Ask a Digital Historian here at Teachinghistory.org. In the past, we've answered questions about aligning NHD to state social studies standards and given tips on places to begin research and steps in developing a research topic.
Congratulations, National History Day!