At a Glance
Teacher Review
Laura McCord
LPR_McCord.mov
Play video
Topics
The Progressive Era, immigration, industrialization, capitalism
Website
Features
Focus on historical thinking, Further resources for teaching this content, Inclusion of multiple perspectives, Opportunity to analyze causation
Download
The Progressive Era
Access primary sources, activities, instructional tips, and assessments for a unit on the Progressive Era.
Review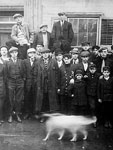 This unit on the Progressive Era consists of seven teaching activities, which build upon each other and culminate in an optional service learning project exploring modern day progressivism. Each part of the unit can be downloaded as an individual PDF, or the entirety can be downloaded at once. Overall, the complete package is age-appropriate, while also challenging students to develop historical thinking skills.
Activities 3, 4, and 5 utilize primary source documents and photographs, and ask students to analyze documents and draw conclusions from them. Activity 3, for instance, prompts students to examine child labor and its impact by looking at two collections of photographs—Kids at Work and Kids on Strike. It then asks students to consider questions such as "How did the people that wrote these books put their stories together?" and "What sources did they use to be successful history detectives?"
While each part of this lesson builds on the last, teachers can pick and choose among the seven activities. For teachers looking for more direction, the lesson includes a narrative script that can be used to frame each activity. It also includes a vocabulary list, a student learning chart/grading rubric, and a collection of links to selected websites.
Notes
Individual lesson plan titles include
"Overview of Industrial Society—Review of Immigration, Industrialization and Corporations"
"What is Capitalism?"
"Child Labor"
"Tenement Housing"
"Making Progressive Laws"
"Progressive Era Mind Maps"
"Service Learning Project—Modern Day Progressives"
Watch Kim Heckart, the lead mentor for Bringing History Home, teach a third-grade class about child labor, using photographs by Lewis Hine. If you are interested in reading more by the Bringing History Home project, try Using KWL Guides to Explore Sources with Elementary Students.
Teachinghistory.org Lesson Plan Rubric
Field
Criteria
Comments
Historical Content
Is historically accurate?

Yes

Includes historical background?

Yes
A brief overview of historical background for each activity is included in the "Narrative Flow, Teachers' Background."

Requires students to read and write?

Yes
Students are asked to read primary documents, and there are opportunities for original student writing based on document analysis.

Analytic Thinking
Requires students to analyze or construct interpretations using evidence?

Yes

Requires close reading and attention to source information?

Yes
The unit includes close analysis of both text and photographic primary sources.

Scaffolding
Is appropriate for stated audience?

Yes
The scaffolding is very well-done, including student-friendly language and examples.

Includes materials and strategies for scaffolding and supporting student thinking?

Yes
The process for each activity is clear.

Lesson Structure
Includes assessment criteria and strategies that focus on historical understanding?

Yes
A rubric is included that focuses on both content goals and process goals.

Defines clear learning goals and progresses logically?

Yes
Lesson is also open to teacher adaptation.

Includes clear directions and is realistic in normal classroom settings?

Yes
The rubrics are divided into content and process goals.