At a Glance
Description
Check out five design schemes created by Frank Lloyd Wright, but never implemented.
Producer
Library of Congress
Frank Lloyd Wright: Designs for an American Landscape 1922-1932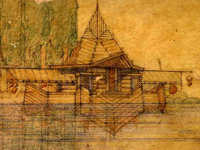 This site offers five exhibits featuring designs by Frank Lloyd Wright's for projects that were never built—a prototypical suburb, two resorts, an automobile objective, and a desert retreat. "Although none was ever realized, they embody Wright's changing views of the fundamental relationship between building and land." Each exhibit is centered on an explanatory essay that ties together images of Wright's designs. The images include hypothetical study models based on Wright's designs and Wright's own preliminary sketches.
"A.M. Johnson Desert Compound" looks at a design Wright planned for the desert compound of Albert Mussey Johnson near Death Valley, CA. "Gordon Strong Automobile Objective" is focused on Wright's designs for a structure atop Sugar Loaf Mountain in Maryland to serve as a motor tourist destination and observation point. "Lake Tahoe Summer Colony" examines Wright's speculative designs for the Lake Tahoe Summer Colony at the head of Emerald Bay on Lake Tahoe, featuring floating cabins. "Doheny Ranch Development" explores Wright's designs for a residential development "of unparalleled scale" on the 411-acre ranch property of Edward Doheny outside Beverly Hills, CA. "San Marcus in the Desert" focuses on Wright's designs for a luxurious resort in the desert on 1,400 acres south of Phoenix, AZ, commissioned by a successful developer. Some of the links on the site are no longer functional and there is no search. A website of interest to those researching Frank Lloyd Wright or the history of American architecture.