At a Glance
Description
Imagine your life in 19th and 20th-century Chicago with this extensive collection of images.
Producer
Chicago Historical Society
Encyclopedia of Chicago, Historical Sources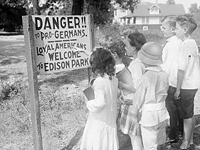 This archive brings together more than 1,300 images on a wide array of topics related to Chicago, its people, and its culture. The material in the collection spans both the 19th and 20th centuries and includes photographs, advertisements, broadsides, maps, letters, newspaper articles, illustrations, and engravings. The photographs include aerial views of the Chicago cityscape, Chicago places, Chicago industries and workers performing their trades, historic photographs, Chicago events, and photographs of Chicago's people. The more than 100 maps can be browsed separately. Each item is cross-referenced to related items in the collection and many of the images are accompanied by explanatory text. The images can be enlarged and there are features for rotation and magnification.
Additionally, the site offers interpretive essays on the Plan of Chicago of 1909, "one of the most noted documents in the history of city planning" and the importance of water in Chicago's history. Other special features are a biographical dictionary, a dictionary of leading Chicago businesses from 1820-2000, and a presentation on how Chicagoans remember their history with images and brief interpretations. In addition, the entire contents of Encyclopedia of Chicago can be searched. A useful resource on the history of Chicago or urban history.