At a Glance
Description
Visit Trenches on the Web for all your World War I research needs.
Website
Producer
Mike Iavarone and Mike Hanlon
World War I: Trenches on the Web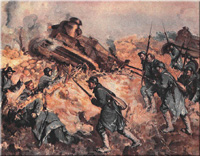 An independent historian assembled this collection of materials relating to World War I. The site focuses heavily on military and diplomatic aspects of the war, providing 25 maps, 10 documents, 42 biographical sketches, 33 musical clips, 56 posters, five reviews of books and a television documentary, 23 timelines, approximately 150 links to related sites, more than 100 photographs grouped into six collections, a 6,500-word essay on the war's origins, and a reading list of more than 100 titles, as well as sections on war "trivia," weapons, artwork, and access to discussion groups. A user-friendly site that will be useful primarily to those interested in military history.