At a Glance
Description
What on earth is "swamp pop"?
Producer
Southern Folklife Collection, University of North Carolina at Chapel Hill
Goldband Records: "Every One a Musical Treat"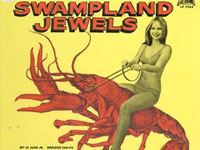 An exhibit devoted to the Goldband Recording Corporation, a Southern regional recording company, located in Lake Charles, LA. From its inception in the mid-1940s, Goldband produced recordings in "some of the South's most important and distinctive musical styles and sounds, including Cajun, zydeco, blues, rhythm and blues, rockabilly, and swamp pop."
The site includes 23 selections in both streaming MP3 and Real Audio formats; short biographical notes of 100–200 words in length on 24 artists who recorded at Goldband studio—including Freddie Fender and Dolly Parton at age 13; 32 photographs; and a 1,600-word essay on musical genres.
Provides three links to related sites, a 10-title bibliography, and an inventory of the full collection of corporate materials available at the UNC Library. Valuable for those studying Southern culture, music history, and postwar American popular culture.