At a Glance
Description
Have you ever thought of teaching your students the history of photography?
Website
Producer
Gary Ewer, Website Author, The Daguerreian Society
The Daguerreian Society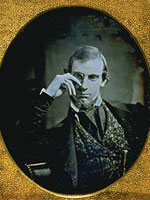 This is the home site of the Daguerreian Society, an organization "Dedicated to the history, science, and art of the daguerreotype," a 19th century mode of photography used primarily for making portrait images. The galleries include more than 40 historical daguerreotypes and 14 modern images. In addition to portraiture, the site also features some daguerreian landscapes, and each image is accompanied by a 50-word descriptive caption as well as the date, subject, and photographer information. The site also provides an index of almost 100 20th-century texts on daggeureotypes; a bibliography of more than 300 pieces of daguerrian literature; a 1,000-word history of daggeureotypes by Society member Kenneth E. Nelson; a 1,000-word description of the daguerreian process from an 1887 issue of the Scientific American; and an 1854 pamphlet that provides an illustrated tour of a daguerrian manufactory. There are also more than 30 links to related sources. For those interested in the history of photography and portrait art, this site is very informative.