At a Glance
Description
What role has art had in the depiction and reality of U.S. labor?
Website
Producer
Donald Rubin, Evelyn Jones Rich, et al.
Labor Arts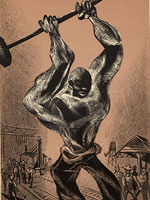 A modestly-sized exhibition of visual materials from a variety of labor-related organizations that focuses on ways in which artists and others have celebrated working people and labor unions in 20th-century America. Includes 44 photographs, 19 images of leaflets and pamphlets, 13 buttons, badges, and ribbons, 25 examples of cartoon art, eight songbook and sheet music covers, six images from murals, and nine covers from the journal Labor Defender. Covers themes of workers at work, strikes, parades, demonstrations, and the civil rights movement. Provides exhibits on original art depicting labor, the New York City "culture of solidarity," and the early struggles of the Hotel and Motel Trades Council. Materials are identified with short descriptions of up to 100 words. Offers links to 61 related sites. Useful for those studying political uses of visual culture in 20th-century America.