At a Glance
Description
How does an industrial past shape current work and play? How does it affect what professions still exist in cities?
Producer
American Memory, Library of Congress
Working in Paterson: Occupational Heritage in an Urban Setting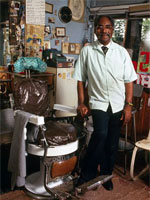 Presents 470 audio excerpts of interviews and 3,882 photographs compiled in 1994 by the American Folklife Center of the Library of Congress during a study of occupational culture in Paterson, NJ. The project—sponsored by Congress—explores ways that the industrial heritage of Paterson, with manufacturing roots going back to the 18th century, still affects present-day community life and culture with regard to work practices and leisure activities. Audio files are available in three formats, accompanied by bibliographic records with word-searchable summaries and subject headings. The site includes five essays—from 2,500 to 5,000 words in length with photographs—by project fieldworkers on African American family businesses in Paterson; an ethnography of a single workplace—Watson Machine International, a manufacturing film established in 1845; business life along a single street—21st Avenue, home to Italian and Hispanic communities; a traditional Paterson food—the hot Texas wiener; and remembrances by retired workers.
Offers a 27-title bibliography, annotated links to 32 related sites, and a glossary of specialized terms. Valuable for those studying the intersection of labor and ethnic history, urban history, and the functioning of historical memory.