At a Glance
Description
What would it be like to grow up poor? Greek? Mexican? Rich?
Producer
Library of Congress
When They Were Young: A Photographic Retrospective of Childhood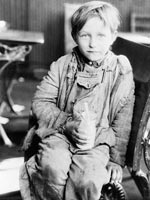 These 66 photographs capture the diverse experiences of children from many different parts of the world from the 1840s to the mid-20th century. The collection includes early 19th-century daguerreotypes, turn of the century studio portraits, and 20th-century prints and stereographs of young people. The portraits of children include those born into privilege, such as Tad Lincoln, son of the President Abraham Lincoln, and a young Theodore Roosevelt, as well as children of tenant farmers in Florida, California, and Texas during the Great Depression. There are also images of children from around the world, including children in Paris, Puerto Rico, Greece, and the Virgin Islands. There are poignant photographs of Cheyenne and Apache children from the Pacific Northwest, Mexican girls in Texas, and African American boys in Harlem.
The collection includes photographs culled from the American Red Cross Collection and the W.E. B. Du Bois Collection, in addition to pictures of African Americans in Washington D.C. by renowned photographer Gordon Parks. Four short descriptions (50 words) by Pulitzer Prize-winning author Robert Coles and information about his book, produced in conjunction with the exhibit, When They Were Young, accompany the collection.