At a Glance
Description
Conduct your own "virtual dig" of a Dutch farmhouse.
Producer
Archaeological Institute of America, <em>Archaeology</em> Magazine
Brooklyn's Eighteenth-Century Lott House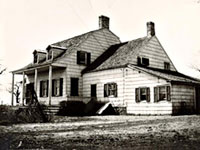 An archaeological exploration of a farmhouse built in early 18th-century Brooklyn that allows visitors to participate in a "virtual dig" to examine artifacts and documents relating to the lives of a Dutch family and their descendants. Chronicles the work done by Brooklyn College archaeologists and students, who have turned up evidence of slave rituals that originated in Africa and the existence of a secret garret room believed to have been used to hide slaves as part of the Underground Railroad in the 1840s. Provides family documents, including wills, probates, and deeds; oral histories of family members (including one audio file); old family recipes; field notes; student journals; an analysis of animal remains; a lesson in stratigraphy (study of rock strata); and approximately 30 photographs. Valuable for those studying family history and the use of material culture in determining ways of life in earlier periods of time. Links to The Lott House Restoration Project, which provides a tour of the house and additional information about the Lott family.