At a Glance
Description
A comprehensive collection of primary source materials which cover the infamous Harper's Ferry raid.
Producer
Institute for Advanced Technology in the Humanities, University of Virginia
John Brown and the Valley of the Shadow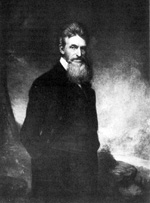 Using contemporary newspaper accounts, eyewitness testimonies, photographs, maps, drawings, and later texts, this site presents "narrative threads" linking the events leading up to John Brown's raid in 1859 on the Harper's Ferry arsenal to "the latent history of life in the two Shenandoah Valley towns of Staunton, Virginia, and Chambersburg, Pennsylvania." Includes 13 issues of newspapers from the towns; five eyewitness accounts ranging from 2,500 to 9,800 words in length; 30 images of the Brown family members and conspirators; approximately 25 additional photos, published drawings, and maps; a brief listing of Brown's day-to-day movements during the latter half of 1859; and short biographical entries of up to 500 words on each conspirator. This site, parts of which are presently under construction, will be of special interest to teachers who want to use contemporary images and written accounts in their classes on Brown and abolitionism, and for those looking to investigate local history perspectives on events of national importance.